…one of rock's most astute singer-songwriters of the
last 40 years
~ Los Angeles Times ~


The Unofficial German
John Hiatt Page
was established in 1997
© 2018 Juergen Feldmann
German John Hiatt Fansite
all rights reserved
Best viewed with:
IE11/Firefox 50/Safari 5.x
1024x768, 16m colors
date format: dd.mm.yyyy
visitors: 200479 online: 1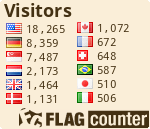 John Hiatt at the German Rolling Stone Magazine
(July 12, 2011)
sorry for the commercial at the beginning


some German questions and Hiatt's English answers...

The questions:

1) Why has such a great album such an unspeakable name/title?
(Dirty Jeans and Mudslide Hymns)

2) You celebrate your 25th wedding day pretty soon. What is your secret?

3) In your songs you are writing about locations, places - why?

4) How are you writing songs?

5) Your songs have often been covered. How is it if the covered song is more successful than your original?

6) What is your favorite cover? Do you listen to the cover at all?

7) Will you ever get tired in your life as a musician?
~News~ 23. Feb 2018
30th Anniversary Tour - European tourdates 2018 - see more
here
~News~ 28. Oct 2017
30th Anniversary Tour - John Hiatt & The Goners Featuring Sonny Landreth starts in the USA at Jan 11, 2018, see more at Official JH Site!
~News~ 25. Dec 2014
John Hiatt & The Combo European Tour 2015!! More
here
as soon as possible
~News~ 05. Dec 2014
'Terms Of My Surrender' is nominated for Best Americana Album in the
57th The GRAMMYs!
~News~ 08. Oct 2014
Big Pink Music released
White Duck-In Season
on CD, see
here
~News~ 24. Aug 2013
new Hiatt CD in July 2014!
called ~Terms Of My Surrender~
see more here
~News~ 02. Oct 2012
John Hiatt talks 'Mystic Pinball,' recording techniques
here
~News~ 24. Jun 2012
Live photos from
European Tour...
see here
~News~ 17. Dec 2011
DJAMH #8 in this year's Top Ten most played albums (Americana)
here
~News~ 03. Dec 2011
John Hiatt-Old Grey Whistle Test 40-w/ Bob Harris

~News~ 12. Aug 2011
Conversations with John Hiatt during his promo tour in
London
provided by UKmusiccity
~News~ 14. Jul 2011
The WordPodcast
from Hiatt's Promo Tour in Europe (London). John joins David Hepworth to talk and sing songs from his new album.